Meet Dr. Shelley Bhullar
Chiropractic Changed My Life and Career Path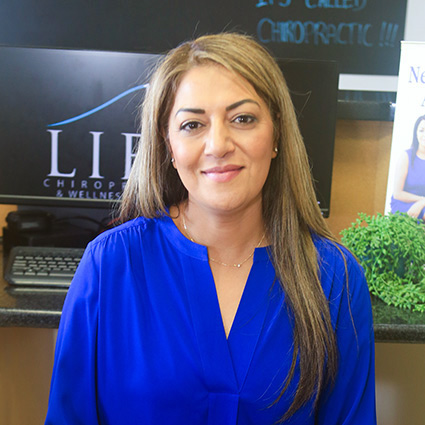 When I was sixteen I was involved in a serious car accident; I was sitting behind the driver seat and we were hit/ T-boned on that side. The impact caused me to have significant hip problems to the point that sometimes I would have difficulty walking or worse getting up and moving. I lived with the pain. I was sixteen, I thought I was OK but as the years went by it gradually got worse and started affecting my health. I would have lower back pain; I couldn't sit for long periods without fidgeting and that made it difficult to concentrate in classes and study. Finally, my mother convinced me to go see a chiropractor. Reluctantly I went and I felt a little better after the treatment but the doctor didn't really explain anything to me and I didn't think I needed to go back.
I moved onto university and the demands of the course load started to really affect my health. I started having headaches and neck pain in addition to the lower back/hip pain. That was when my cousin (who is also a chiropractor) introduced me to his chiropractor and I was completely blown away. The doctor was amazing; he totally educated me on how my body worked, why I was having the pain and what needed to be done to correct the problem.
What inspired me was that it was all accomplished without the use of drugs or surgery!
I decided then that this would be the career path for me.
Chiropractic Education and Training
Dr. Bhullar earned her Doctor of Chiropractic from New York Chiropractic College, where she graduated with honors and received the prestigious D.D. Palmer Memorial Award for displaying characters best exemplifying those of a teacher/faculty member.
The curriculum involved over 200 post graduate educational courses to supplement my knowledge and desire to provide the finest care possible. Courses included neurology, orthopedics, nutrition, sports injuries, geriatrics, pediatrics, x-ray, disability, auto and work injuries, orthotics and chiropractic adjusting techniques.
Dr. Bhullar has an extensive library and has read hundreds of books concerning the optimization of human health and performance. She gives lectures and speaks to various organizations, groups and professionals, from hospitals to schools and church groups. Dr. Bhullar also works closely with attorneys and insurance adjusters who deal with auto related and workers comp injuries. Dr. Bhullar continues to train in chiropractic principles and procedures with top chiropractors in North America.
Chiropractic is part of her family; her brother-in-law Dr. Ruminder Birk is also a chiropractor serving the Woodbridge community.
Dr. Bhullar is currently pursuing her certification in pediatric chiropractic. Dr. Bhullar has been actively involved in her profession and the community. She is a member of the International Chiropractic Association, the College of Chiropractors of Ontario and the International Chiropractic Pediatric Association. And Dr. Bhullar is also a licensed acupuncturist.
Our chiro philosophy is simple: The power that created you heals you!
Living the Chiropractic Lifestyle
Dr. Bhullar is married to her husband, Sam, and is mother to two beautiful children, Serene and Shaan. "I am blessed to see my children and family reap the benefits of a wellness lifestyle and want to encourage others to make informed decisions regarding their own health and wellness!!". She loves to travel and learn of different cultures; having visited countries such as Vietnam, Thailand, India, Hong Kong and much of the United States. Dr. Bhullar also enjoys weight training, meditating, reading and socializing with great friends and family.
Fun Fact: Dr. Bhullar is working towards becoming a Master Yogi on her spare time!
Schedule Today
We look forward to meeting you in person and learning how we may be of service to you. Contact our office and let's arrange a time to explore your options.

Dr. Shelley Bhullar | (905) 840-9481