New Patients at Life Chiropractic & Wellness Centre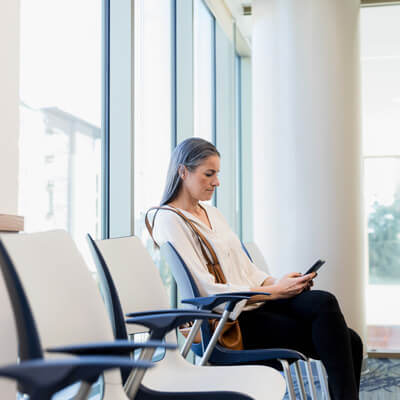 Welcome to Life Chiropractic & Wellness Centre. Our Brampton team is ready to warmly greet you. We are pleased that you have chosen to entrust your health care to us and look forward to getting to know you.
For many, chiropractic is a new experience, so if this is your first time seeing a chiropractor, we want to you to know your comfort is our priority. You'll find that our comfortable office will put you right at ease.
Your First Visit
When you arrive, you will be warmly welcomed by our friendly staff. As with any doctors office, you will be asked to fill out some paperwork so we can be familiar with your health history and current condition. You will then be introduced to Dr. Bhullar, and will have a detailed consultation which includes a thorough chiropractic examination and if necessary, recommended x-rays. X-rays provide im-portant information, including the health and positioning of spinal bones and safety of adjusting.
We will listen carefully to understand your problems and specific health goals. If x-rays are needed, we will refer you to a local facility. Please remember to take your OHIP card with you. The x-rays are sent directly to us, so you don't need to worry about bringing them in with you on your follow-up visit). You will also receive a complimentary copy of Dr. Bhullar's book, "Necessary Adjustment – A Simple Guide to a Healthier, Happier Life". This appointment will take about 30-45 mins.
Dr. Bhullar will need some to time to review your x-rays and determine the best plan for you to achieve your health goals, so we will book your second appointment to follow up and provide a Report of Findings (ROF).
Your Second Visit
Your second visit, or Report of Findings, is the most important visit and may take up to one hour. At this time, we will discuss your examination findings and you will be shown your x-rays. You will have the opportunity to ask questions. You will also be advised where the problems are, the type of care you will need, the frequency of your care and any special instructions.
We will outline a customized care plan to get you out of pain quickly, gently and efficiently. Your plan will be based on your health goals and expectations.
Progressing Through Care
During your subsequent visits, Dr. Bhullar and the team at Life Chiropractic & Wellness Centre will offer support in the areas of specific exercises and ongoing education. It is essential to remember that we do not just want to temporarily relieve your pain. Our goal is to fix your issue and prevent it from recurring through increased flexibility, stability and strength.
For that reason, many patients opt to continue with supportive wellness care once we have completed our specific care plan. This supportive care can help you maintain the amazing benefits your plan has achieved.
Schedule Today
Contact us today to schedule your appointment at our Brampton practice!

New Patients at Life Chiropractic & Wellness Centre | (905) 840-9481