Meet the Team at Life Chiropractic & Wellness Centre
Get to Know Us
Ashley, Office Manager
Born and raised in Toronto and joining the Life Chiropractic & Wellness Centre team in 2017, Ashley's main goal is to help run a smooth office and be available to help our patients with anything and everything. From helping patients fill out intake forms and entertaining the kids to introducing stretches and exercises during your care program and everything in between! With her passion for wellness, as well as a BA in Commerce and extensive experience in marketing and advertising, she has truly been a great addition to the office.
Her hobbies include but are not limited to eating lots of pizza, traveling on the unbeaten path, camping, working out, sports, and gardening…but mostly hanging out with her dog-son Sir Bruce.
FUN FACT: Ashley likes long romantic walks down the Tequila aisle!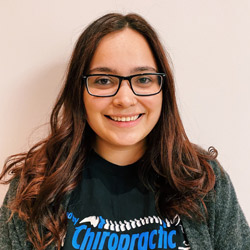 Hannah, Office Administrator
Hannah was born in Winnipeg, MB. When she moved to Ontario she continued her education studying in Ottawa and Toronto. She has been working at Life Chiropractic & Wellness Center since 2020, where she is ready to answer any question you may have. Hannah always knew she wanted to work in the health care industry and her passion for people show that! Her favorite part is being able to see the changes in people's lives and body when they come to the office.
FUN FACT: She enjoys cooking and makes it her goal to try a new recipe each week! She loves reading and spending time with her husband and their dog Solomon!

Angela, Administrative/Chiropractic Assistant
For Angela, the most rewarding aspect of her job is meeting new people, seeing changes in patients' health through chiropractic treatments and being able to help patients improve their health.
As an administrative/chiropractic assistant, Angela plays a crucial role in the day-to-day operations of our chiropractic office. She is responsible for providing patient care, managing medical records and scheduling appointments, as well as performing various administrative duties such as handling billing.
Angela possesses a Bachelor of Science degree in Kinesiology. As her education focused on physical activity and how the human body's movement affects health, well-being and quality of life, becoming a CA was a natural fit!
FUN FACT: When she's not at the practice, Angela enjoys spending time with friends and family, walking her dogs, and shopping.


Manya, Office Administrator/Chiropractic Assistant
For Manya, the most rewarding aspect of her role is to see the positive impact chiropractic care has on a patient's overall well-being. She also finds it fulfilling
to connect with patients and have the opportunity to assist them in their health journey.
Manya has an educational background in health sciences from the University of Toronto, and is currently undergoing a graduate study in brain disorders.
Outside the practice, Manya enjoys being creative with painting and drawing every once in a while. She also loves to be adventurous, exploring and traveling to different places. When she's not traveling, she binge-watches Netflix shows and hits the books.
FUN FACTS: Manya loves telling jokes, eating TWIX® chocolate bars (her guilty pleasure!) and is addicted to vanilla-flavoured coffee!

Christina, Chiropractic Assistant
With an educational background in kinesiology and health sciences, Christina plans to continue her education in health care after earning her undergraduate degree.
For Christina, the most fulfilling part of her job is to observe the progress of our patients. It is satisfying for her to interact with them and hear about the improvements they notice from taking control of their health.
In her spare time, Christina stays active by being on a dance team that does cultural performances. She enjoys dance because she can express herself through movement, and it is also a great way to maintain her physical fitness.

Meet the Team at Life Chiropractic & Wellness Centre | (905) 840-9481